April 27, 2022
Background of the TOCOWO project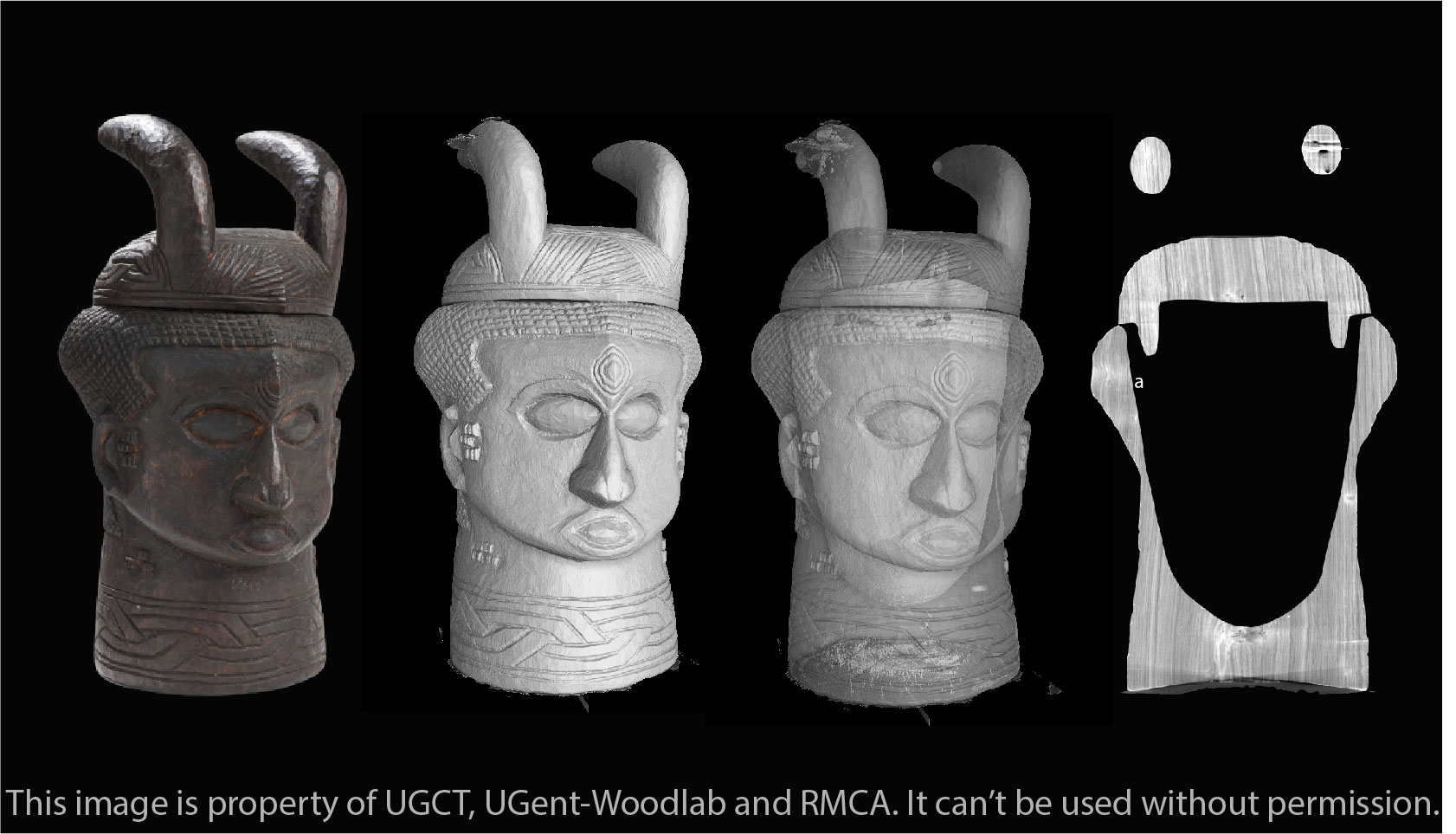 Scanned Ndenge cup (30,5 x 12,5 x 12,5 cm), its 3D renderings (using VGStudio MAX®) and a reslice (using ImageJ®). ®RMCA ®UGCT
The collection of the Royal Museum for Central (RMCA), Belgium, houses a large number of wooden heritage objects from the Democratic Republic of Congo: sculptures, musical instruments, furniture, tools and power-associated objects. The tropical wood species of only a small amount of these objects has ever been identified (about 6% of the collection). Knowing the wood species present in the collection of the museum is crucial however, as it may provide:
more insight into the objects' manufacturing processes and add knowledge about their provenance
help for the conservators of the museum in understanding the specific characteristics of the wood species and its ageing properties, thereby informing the most suitable treatment and preservation course for the collection objects
the possibility for the collection objects to travel internationally -for traveling exhibitions or loans- proving whether or not they are made of endangered wood species
To date, the methods for wood identification are destructive. Through sampling of the objects and microscopic analysis of the wood anatomical features a species can be assigned. The TOCOWO project (Tomography of Congolese Wooden Objects) intends to explore X-ray micron and sub-µm tomography as a non-destructive alternative for the identification of wood species in the museum's collection. It is a collaboration between the RMCA and Ghent University, funded by BELSPO's BRAIN program (2020-2023).
The objectives are:
Exploring possibilities of X-ray micro-tomography for non-destructive wood analysis and identification
Identifying and listing the protected wood species of collection objects
Drafting a protocol for X-ray computed micro-tomography of collection objects
Setting up a reference database of high resolution scans of wood species